Contact Springfield Traffic Tickets Today for the Legal Services You Need!
In most traffic stops, a clearly marked police vehicle operated by a uniformed officer is used to execute a stop. In rare cases, though, an unmarked vehicle may be used to make a traffic stop, and the officer may or may not be in uniform. In these situations, there are often concerns that the "officer" may be an impersonator, looking to prey on citizens who think they are legitimately being stopped by the police. For this reason, some states have outlawed the use of unmarked police vehicles in traffic stops. Many states, Missouri included, do still allow the use of unmarked vehicles in normal patrol activities.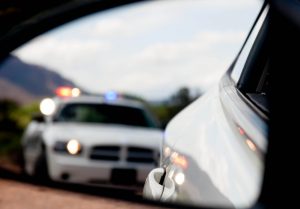 Missouri law (RSMo 304.022) allows the use of unmarked police vehicles for traffic stops. The only necessary marking for an emergency vehicle in this situation is a red flashing light and a siren. For those concerned with the safety of stopping for an unmarked vehicle, this may not be particularly comforting There are, however, a series of steps that can be taken to ensure your safety while still behaving legally.
When the unmarked vehicle signals to pull you over, turn on your emergency lights and slow down to indicate that you acknowledge the vehicle and intend to stop.
Call 911. If you're traveling, ask to be connected to police dispatchers in the town you are in. The dispatchers will be able to confirm that the car attempting to stop you is actually a police vehicle, and inform the officers behind you about why you haven't stopped yet. If the car is not a police vehicle, they will also be able to send help and advise you on how to proceed.
If you are unable to call 911, lock your doors, don't roll your window down completely, and stop in a well-lit, public place.
If the officer you speak with is not in uniform, explain that you are uncomfortable and ask for a uniformed officer in a marked vehicle to be called to the scene. Be polite, but understand that it is your right to make this request. You can also ask for the officers ID and badge number.
While the vast majority of traffic stops with unmarked cars are done by police officers, police impersonators are enough of an issue to affect law changes in other states. It is best to err on the side of safety, especially given the minimal requirements for emergency markings in Missouri.