Contact Springfield Traffic Tickets Today for the Legal Services You Need!
As always, the City of Springfield and Missouri Department of Transportation is hard at work keeping our roads safe and updated. There are currently a few different construction zones through town that we thought  you may like to know about. Keep these in mind as you plan your commute through Springfield the next week or so.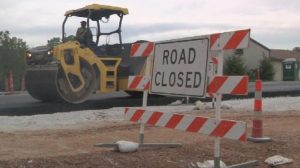 Cairo Street
They are repairing the concrete pavement along Cairo Street, and it  will be closed to traffic temporarily between Glenstone and Kentwood Avenues for the time being. This began at 7 am on Wednesday, October 17th and will remain closed through 5pm on Tuesday, October 23rd. Only local residences and businesses will be allowed to maintain access during this time.
For more information, contact Kristin Milam at 573-819-3713 or at kmilam@springfieldmo.gov
Division Street
A cost-share partnership between the City of Springfield and the Burlington Northern Santa Fe (BNSF) Railway Company has accelerated a construction project along Division Street. The City's portion of this project is being funded by the 1/8-cent transportation sales tax and has closed Division at the BNSF railroad crossing just west of Kansas Expressway. This will begin on Sunday, October 21st and continue, weather permitting, until Monday, October 29th.
This project will facilitate the replacement of the existing railroad crossing and roadway surfaces so all drivers are advised to find an alternate route when planning their travel.
For more information, contact Tina Stop with the Department of Public Works at 417-864-1984 or at tstob@springfieldmo.gov
For any future inquiries on the traffic news in Springfield, visit www.springfieldmo.gov for up to date news release posts.