Contact Springfield Traffic Tickets Today for the Legal Services You Need!
Mark Reuss, head of product development for General Motors, has released an official apology following his pace car crash at the Detroit Grand Prix. This past weekend's Grand Prix took place on the streets of Belle Isle in Detroit and held an entire field of IndyCar drivers eager to begin the second race of the series. Unfortunately, the pace car crash postponed start time by about half an hour.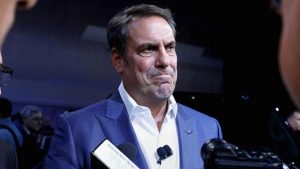 Reuss has paced the Detroit race numerous times prior to this incident, but the 2019 ZR1 he was driving this time is the fasted Corvette ever manufactured. While it's highly computerized and has a massive rear wing and intercut bodywork, no amount of downforce or fancy technology can save you from the laws of physics. The sheer power of the Corvette paired with the lack of grip and the fact that Reuss is not a professional driver led to quite an embarrassing moment for him on tv.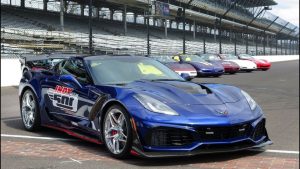 The crash severely damaged the 2019 Corvette ZR1 when Reuss was traveling along a tricky portion of the Belle Isle circuit. This circuit is known for it's irregular surfaces and violent bumps, but it was ultimately driver error that attributed to the unexpected collision with a wall. You can click the photo below to see a video of the crash. It appears that the Corvette over-corrected after hitting a bump following a turn.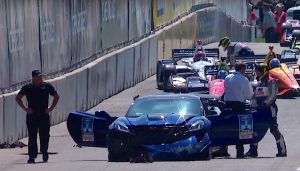 On his offical Facebook page, Reuss wrote: "I want to thank you all for your well wishes today. I am ok. I have driven this course many many many times. I have paced this race in the wet, cold, hot and calm. On Z06's, Grand Sports and other things. It is never a casual thing for me, but an honor to be asked. Today I let down my friends, my family, IndyCar, our city and my company. Sorry does not describe it. I want to thank our engineers for providing me the safety I know is the best in the world."
Luckily, the accident didn't involve other vehicles and Mr. Reuss along with his passenger are both in good health following the incident. They did not suffer any injuries, however the airbags did deploy due to the force of the impact. Veteran IndyCar driver Oriol Servia was ready to take his place behind the wheel of a backup ZR1 to pace the remainder of the Grand Prix.