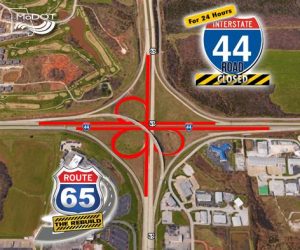 Contact Springfield Traffic Tickets Today for the Legal Services You Need!
As of 12:01 am, Saturday, July 13th, I-44 is closed at US 65 and Southbound US 65 is closed at I-44. Detours have been put in place for alternative routes, but expect delays as you travel through this area. ALL lanes of I-44 at 65 will be open again by 6 am Sunday, July 15th. However, US 65 will remain closed until late August.
This project includes the replacement of the southbound US 65 bridge that travels over I-44, the replacement ofthe 1970's era southbound US 65 concrete pavement between Valley Water Mill Road and Kearney Street, and the replacement of several ramps at the US 65/I-44 interchange.
For updates on any Missouri Department of Transportation projects, you can visit their project updates page.